INVITING POSTERS FOR MBM CONFERENCE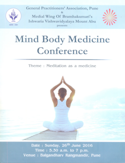 Posters are invited for presentation in 33rd National Conference on Mind-Body Medicine from 26-28 August, 2016 in Mount Abu.
Poster Should have information on:
Introduction
Material and Methods
Discussion
Conclusion
1. The poster size should be 4 feet height by 3 feet width.
2. Poster should be in English.
3. Charts, drawings and illustrations must have self explanatory notes.
4. Font size should be readable from 1.5 meter distance.
5. Author should remain at the poster site for discussion for his/her work at the scheduled time for exhibition at the conference
Posters along with your CV may please be submitted at [email protected] with subject tag – Posters for MBM Conference – before 31th July, 2016 for scrutinisation.