MEDITATION RETREAT-CUM-TRAINING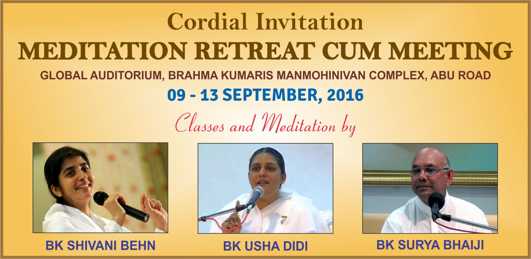 Medical Wing is organizing SAHAJ JEEVAN, SAHAJ YOG,  a Meditation Retreat exclusively for its members at Global Auditorium, Manmohini Van Complex, Abu Road from 9 – 11 September, 2016
Eminent Senior Raja Yoga Teachers leading the sessions of the Meditation Retreat will be BK Usha Didi, BK Surya Bhaiji and BK Shivani Behn.
The following topics will be included in the meditation retreat:
1. स्वमान से श्रेष्ट स्थिति (Excellent State by maintaining Self Respect)
2. कैसे बने सहज योगी (How to become a Sahaj Yogi)
3. कर्म योग – सदा स्वस्थिति में कैसे स्थित रहें (Karma Yoga – How to be always in Self Respect)
4. खुशनुमा जीवन (Happy Life)
5. ईश्वरीय सेवा (Godly Service)
6. आनेवाले समय की तैयारी (Preparation for the future)
7. निराकारी, निर्विकारी, निरहंकारी (Incorporeal, Vice-less, Ego-less)
Medical Wing Meeting will be held on 12 September, 2016.
Arrival will be on 9th September and departure will be on 13th September, 2016.