Diamond Projects for Diabetes Management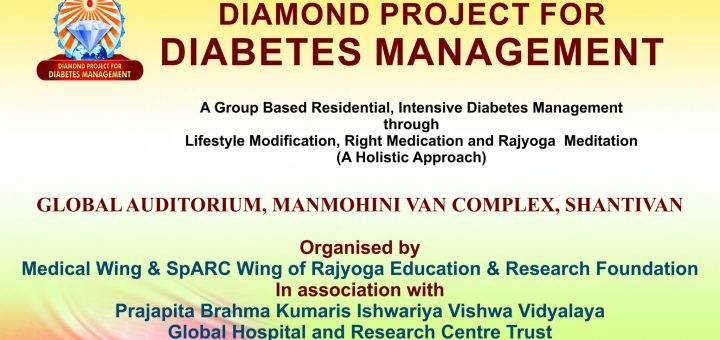 Click Here to Register
GUIDELINES FOR REGISTRATION
First Camp: 27th April to 3th May 2019
Second Camp: 23th May to 29th May 2019
Third Camp: 23th June to 29th June 2019
Fourth Camp: 30th July to 5th August 2019
Fifth Camp: 30th August to 5th September 2019
The first Camp starts at 4 pm on 27th April, 2019 and ends at 8 pm on 3th May, 2019.
This Diabetes Management programme is specially meant for BK Teachers.
Age no bar, but must be active enough to do physical exercise.
CHILDREN NOT ALLOWED.
Confirmation from Medical Wing office is a must for participation.
All qualified applications will receive confirmation from us.
Expected date of arrival is 27th April, 2019 and expected date of departure is 4th May, 2019 (night 8.30 pm)
8. Please contact the Medical Wing Event Management Team for any questions or concerns throughout the process. We devote much of our year to this process and are always happy to speak with you.
Reach us by Phone on 8837872491, 8619937031 and 9414201878. You can also email us at [email protected]
Medical Guidelines:-
Participants should be accompanied by some attendant/ Junior sister
Renal failure cases, patients on dialysis, Heart patients Type 1 Diabetes patients, Psychiatric patients can't participle in this programme.
PARTICIPANT'S LATEST ( With in One Month) BASIC LAB REPORTS REQUIRED FOR REGISTRATION CONFIRMATION:
(Note: LAB Preferably THYROCAE for uniform test results.)
PATHOLOGY: – COMPLETE BLOOD COUNT
BIO CHEMISTRY: – FBS, PPBS, HB A1C, BLOOD UREA, SERUM CREATININE, SERUM URIC ACID, T.S.H, LIPID PROFILE, S.G.O.T, S.G.P.T, URINE ROUTINE, URINE ALBUMIN CREATININE RATIO, ECG
Note:
All the successfully submitted registrations will be scrutinized before confirmation.