NURSING CONFERENCE | 30 SEP – 03 OCT 2016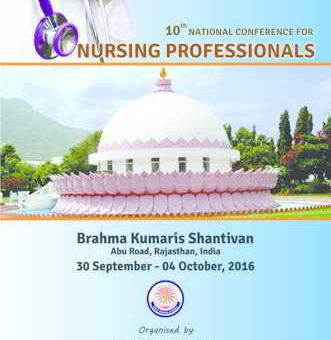 It gives us great pleasure to invite you for our much anticipated National Conference for Nursing Professionals.
This is a conference with emphasis on non-technical subjects which are less addressed in our nursing curriculum.
This conference will give you an opportunity to explore the immense potential of your mind which is a creator of thoughts. Thought, as we all know, starts a long chain of events in development of our attitudes, our vision, expressing our feelings and emotions, our communication, actions and finally developing our habits and personality which lead to our destiny. We need to explore the depth of the subtle mind.
Most of the faculty for this event are senior teachers of Rajayoga popularised by Brahma Kumaris and experienced medical professionals and specialists in their own fields who share their experiences of Rajayoga in improving patient care. We can call this a holistic health care as compared to the highly specialised approach , which focus only on specific diseases.
Experience the power of deep silence to awaken your dormant inner powers. You will also get an opportunity to reflect, explore, discuss and introduce new dimensions in core values for better nursing care in your work place.Vast, quiet & empowering premises of Shantivan (77 acres) offer serene and spiritually charged atmosphere and provide an ideal location for such an experience. Weather in September is pleasant with surrounding hills covered with greenery all around.
We trust you will find time to accept our invitation and participate in this unusual conference that offers a possibility of personal transformation.
The conference is being held at Brahma Kumaris Shantivan, Abu Road, Rajasthan, India from 30 September – 03 October, 2016.